Is your LinkedIn company page ready for dark mode? Are there other features you should consider adding to make the most of LinkedIn?
In this article, you'll discover how to update your LinkedIn company page and content to maximize professional networking and lead generation capabilities in 2022.
#1: Optimize Your Company Page for Dark Mode
Following the lead of many other social media channels, LinkedIn announced a dark mode option in September 2021. Although the platform is rolling out the feature gradually rather than all at once, you shouldn't wait to start optimizing LinkedIn content or layouts for dark mode.
Your logo identifies your brand across LinkedIn and your content helps your company establish authority so it's essential to ensure both the logo on your page and the images in your content display correctly.
Don't have dark mode yet? You can preview and update all of your images for both modes, even if LinkedIn's dark mode rollout hasn't reached you yet. Here's how.
Avoid Transparent Backgrounds
Using your photo editing app, open your logo image file. Access the app preferences and navigate to the background color. Change the app's background color from light to dark (or vice versa) to view your logo in both modes.
Did elements of your logo change when you adjusted the background view? If so, the image file probably has a transparent background, which you should always avoid. Flatten the image or export it as a JPEG so your logo looks the same no matter which mode your customers use.
Then review the new image file in both light and dark modes and upload it to your LinkedIn company page. Going forward, use this workflow to avoid publishing any logos or content images with transparent backgrounds on your page.
Add Borders to LinkedIn Images
Eliminating transparent backgrounds can improve how your images display but it might not make your visual content look exactly the way you want. Say, for example, your logos or content images often have white or black backgrounds. You might find that they blend in on LinkedIn rather than stand out on your company page or in news feeds.
To help your images stand out, use your photo editing app to add a border around the edges. Choose one of your brand colors to create a consistent visual identity and reinforce your brand. Then save it as a template so you can reuse it
#2: Update Your LinkedIn Banner Image
When a LinkedIn user visits your company page, one of the first things they'll notice is your banner image. If you haven't updated your banner image in a while, there's a good chance it needs more than a quick border or background fix.
Instead of using an evergreen banner image to anchor your company page, refresh it when your business has something new to share.
Use these ideas to leverage this space:
Products: Has your business launched a new product line or added new features? Build a banner image that boosts awareness. For example, the @Moz banner image below shines a spotlight on the search engine optimization (SEO) platform's latest feature.
Events: Is your business hosting an in-person or online event or sponsoring a major happening in your industry? Incorporate the event badge into your banner to influence consideration.
Social proof: Do you want your company page to generate leads or convince prospects? Create a banner image that highlights social proof such as how many customers you have, awards you've won, or quotes from industry figures. For example, the @Kinsta banner image below showcases a series of recent awards.
#3: Align Your Tagline and CTA Button
Your banner image is the most visually compelling part of your LinkedIn page. But the rest of your page elements should work together to drive the results you want.
Use Your Tagline for SEO
Because it spans just 120 characters, you might assume that your page's tagline is a minor detail. However, your tagline has a major impact on your SEO potential and affects whether your LinkedIn page appears in relevant Google searches.
Think of your tagline as a meta description for your page. It displays below the page title and URL on search engine results pages (SERPs) and using the right keywords can determine where your page ranks.
The @Kinsta tagline in the image above packs a lot of information into the 120-character limit. It clearly states what the company offers before mentioning industry keywords and product benefits.
Add a Custom CTA Button
Gone are the days when LinkedIn defaulted to giving every company page a Follow button. Now you can choose from five custom call-to-action (CTA) buttons: Learn More, Visit Website, Contact Us, Register, and Sign Up.
For best results, take care to align your CTA and tagline. If you want prospects to subscribe to your list or message you about your services, tee up your CTA in the tagline and prompt them to take the next step by clicking the button.
#4: Develop LinkedIn Product Pages
If you run a company page that focuses on business-to-business (B2B) software or software as a service (SaaS), then LinkedIn's Product Pages are nothing new. But if you're in any other industry, then you first got access to this feature starting with the platform's mid-2021 rollout.
As the name suggests, product pages let you showcase products on your company page. But that doesn't mean you're limited to featuring physical items or even products with price tags.
In addition to eCommerce products or subscriptions, you can use product pages to highlight downloadable content and lead magnets. That makes this feature ideal for enhancing your lead generation process.
To add a product page, go to your company page and click the Products link in the main menu.
Then give your offer a title, write a short overview, add a link, upload an image, and select a CTA.
Be prepared to wait a bit for your offer to appear on your company page. LinkedIn reviews every product page before it goes live. But once your product page is approved, users can access it from the Products tab on your company page.
#5: Engage as Your LinkedIn Page
Did you know that LinkedIn allows company pages to join conversations by sharing content and news? To find great content to share, go to the Content tab in your company page's main menu.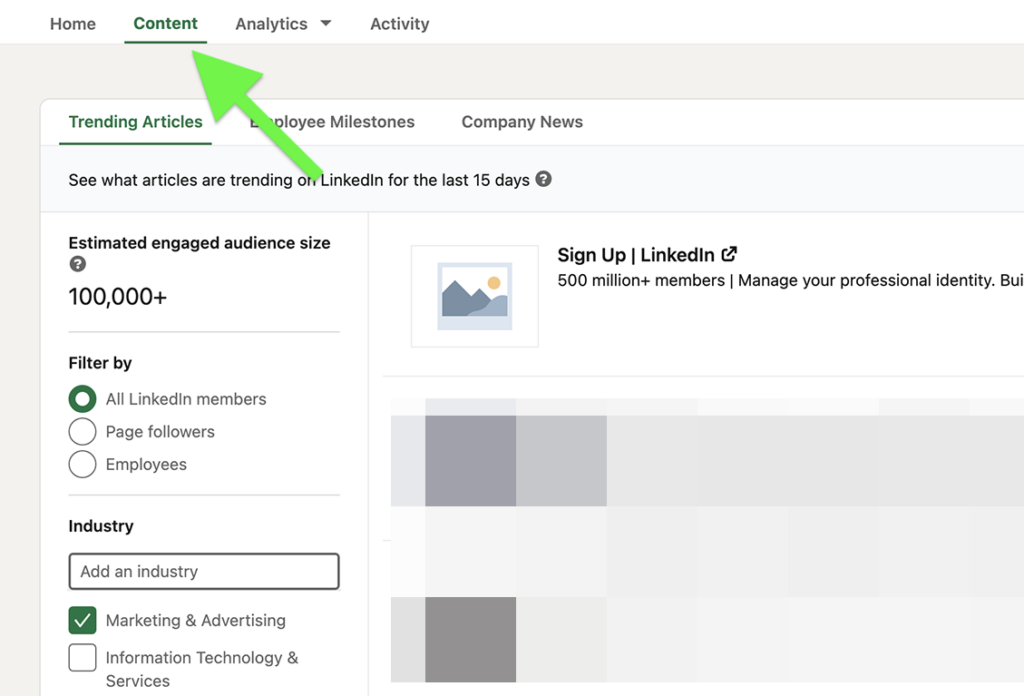 Click the Company News tab to find articles about your business or go to the Employee Milestones tab to locate big news about your team. On the Trending Articles tab (shown above), sort popular content by industry or the writer's job function or authority.
When you find an article you want to share with your page's followers, click the Share button. Write a caption to share your insights, and after publishing, check back and respond to comments and engagement.
Experience Social Media Marketing World Without the Travel
Imagine learning from the world's top social marketing pros without ever leaving your home or office.
Attend Social Media Marketing World virtually with an On-Demand Ticket. Watch all the sessions, keynotes, and workshops when and where you want! You'll walk away with real business-building ideas without having to deal with the stress or expense of travel.
#6: Update Your LinkedIn Content Strategy
With its focus on professional networking, LinkedIn has always been a great place to build relationships with prospects and learn how your business can better meet their needs. Here are some content ideas to help you connect with your audience.
Visit www.rapidezwriter.com for more advice. Also check our expert services.
Follow us on other social media platforms Instagram, Facebook, Youtube, Linkedin, Twitter.
#covid #careergoals #careercoach #careerdevelopment #interviewtips #jobopening #careeradvice #linkedin #motivation #resumebuilder #resumeadvice #internship #jobhunting #resumes #resumetemplate #entrepreneur #vacancy #resumebuilding #careerchange #staffing #recruiter #education #hiringnow #bhfyp #cvmurah #cvkreatif #resumeservice #networking #college #marketing