How to make an ATS-friendly resume
Here are six ways you can make your resume more ATS-friendly.
1. Use the chronological resume format
There are three primary resume formats job seekers use when applying for work.
However, the chronological resume is the most compatible with ATS software, because it best emphasizes and organizes your work experience (from most recent to oldest). If you have a normal work history with no large employment gaps or career changes, definitely make sure you use a chronological resume.
2. Correctly label your sections
Applicant Tracking Systems organize your qualifications based on common resume headings like "Work Experience" and "Skills".
Playful headings like "Why I'm Great" will confuse ATS software. So don't use them.
Here are some good and bad examples of resume headings:
Work Experience
Skills
Education
Jobs I've Done
Major Abilities
Where I Studied
3. Include job-related keywords
To determine whether your qualifications are relevant to the position, ATS software scans your resume for specific job-related resume keywords. Although newer ATS software uses AI to understand whether your resume fits the job requirements, many companies still use older software that searches for resume keywords.
To increase your chance of getting into the interview pool, look through the job listing for these words to include on your resume.
For example, a software company hiring a new front-end developer might use these words in the advertisement to describe the hard and soft skills they're looking for in a candidate:
CSS
C++
Javascript
Collaborative
Innovative thinker
Take note of these skills and include them in your resume core competencies section or resume skills section to ensure that the ATS knows you're qualified for the job.
The images below contain a real example of a sales associate job description. We've highlighted the important keywords applicants for this job opening should include on their resume to pass the ATS: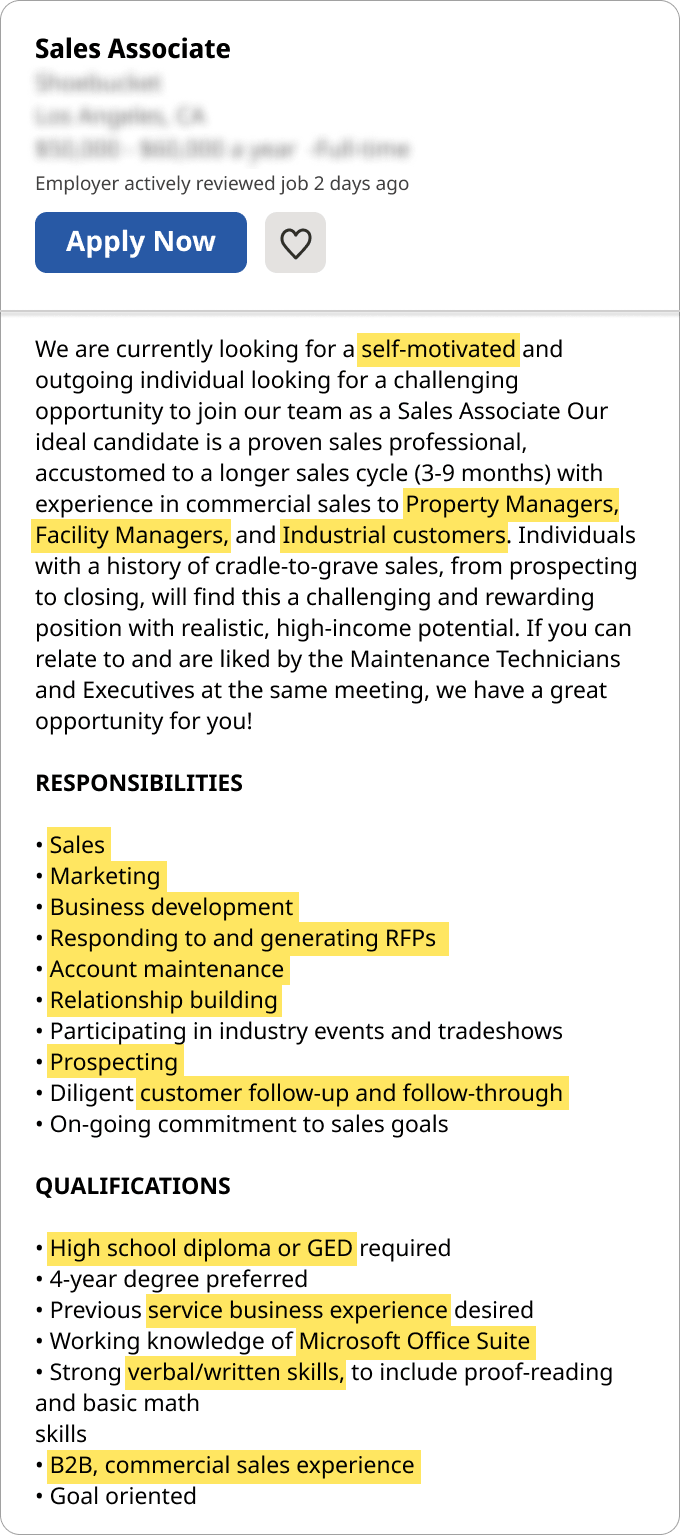 4. Use an ATS-friendly resume template
Many job seekers dress up their resume to make their application stand out from other candidates. However, resumes with graphic elements, tables, or unique fonts are difficult for ATS software to read.
To make your life easier, simply download an ATS-friendly resume template and fill it out with your own information.
5. Use a common resume font
The best resume fonts to get past the ATS are common and easy to read. When in doubt, stick to basic fonts like Times New Roman, Calibri, Arial, or Georgia.
6. Save your resume as a PDF or .docx
Some older ATS software has trouble understanding resume PDF files, but if the job listing doesn't specify what file format to save your resume, then PDF and .docx should both work.
Visit www.rapidezwriter.com for more advice. Also check our expert services.
Follow us on other social media platforms Instagram, Facebook, Youtube, Linkedin, Twitter.
#covid #careergoals #careercoach #careerdevelopment #interviewtips #jobopening #careeradvice #linkedin #motivation #resumebuilder #resumeadvice #internship #jobhunting #resumes #resumetemplate #entrepreneur #vacancy #resumebuilding #careerchange #staffing #recruiter #education #hiringnow #bhfyp #cvmurah #cvkreatif #resumeservice #networking #college #marketing